Post by Leigh on Jul 16, 2016 17:17:53 GMT -5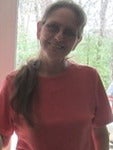 What's everyone up to lately?


Hello Cindy, and everyone else. Hope everybody has had a good week. Thank you for the prayers for my Uncle Bill. As posted on FB, he passed away early yesterday (Friday) morning. I am so thankful that my mother and I went to Louisiana earlier in the week to see him. It was a hard trip for just the two of us... we had adventures every day (and not always good ones!!), but God protected us and allowed us one last visit with him (actually a couple of visits if you count Friday night and Saturday during the day).
By the time we arrived, Bill had his eyes open but was not able to speak any longer. I think he knew we were there, though, and he had tears in his eyes when we left, so we feel certain he heard us just fine. I prayed over him and said he could pray along in his heart, if he wanted to, asking Jesus to forgive his sins.
Later we found out his main nurse is a Christian, so privately I told her to feel free to pray with him, talk to him about the Lord, do ANYTHING that she thought might make an impact, because obviously his time was short. She was thrilled to find out he had Christian family members and wanted to go pray over him right then, so she did. She leaned down close to his face so he could hear, put her arms gently around his shoulders (he was in lots of pain), and said the most beautiful, powerful prayer for him. (I joked later, "Billy Graham couldn't have said it any better!")
Anyway, we have no way to know if he silently made a decision for the Lord... we will just have to wait until Heaven to find out. This is very difficult for my mother, losing her only sibling only two months after losing my daddy. We are back home and finally recovered from the trip (nearly 2000 miles in four days... a lot for us!).
A church friend from our small group has had her two year old in the hospital this week with seizures; I went to visit them one day and our group is doing supper for them tonight because the baby went home today. (Actually didn't cook anything myself, but coordinated it; I'm sending a store-bought pie.) We have VBS next week and am trying to get ready for that.
Margie -- the BBQ sandwiches sound delicious for supper, but please go get some ice cream! You need it!!